Supported Living in London and Essex
Helping younger adults with learning disabilities live independently
Have you watched your child or loved one overcome the challenges of a learning disability? Is it now time to let them go to live independently? It can be an emotional transition but with Lodge Group Care, you can rest assured that they'll be in good hands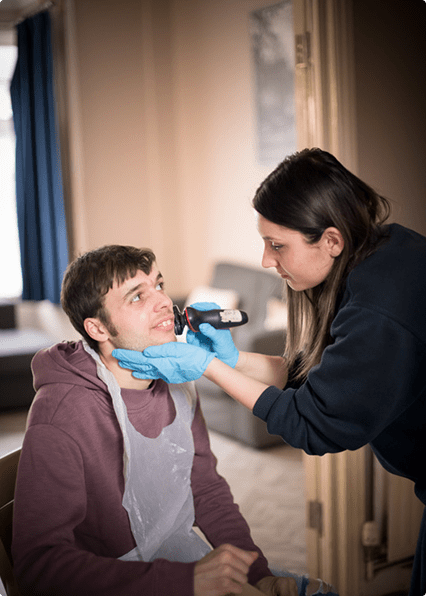 In partnership with our trusted housing partners, Independent Housing Limited and London & Quadrant, we provide supported living accommodation in Romford, Barking and Chigwell.
But it's far more than accommodation, it's a home where they get to exercise their independence in a safe environment, while they also learn how to live well as part of the local community. This is all made possible with the help of our fantastic team of carers who provide support 24 hours a day to create a positive, secure environment.
We typically work with those that have learning disabilities and complex needs, including severe autism, Asperger's Syndrome, ADHD and behavioural challenges. Every tenant in our supported living accommodation has a personalised support plan, including a range of activities for learning and for fun.
We offer 2 main types of accommodation:
Shared houses, where every tenant has their own private room and shares communal areas such as the lounge and kitchen.
Self-contained one-bed flats within a dedicated block.
How do we support our residents?
Our enthusiastic carers and support workers are trained to help our residents build on their strengths and develop new skills. They are on hand every day to help residents:
develop everyday life skills, including cooking, cleaning and shopping
attend to personal care, including managing and administering medication
manage budgeting and home upkeep and follow the Terms & Conditions of their tenancy agreements
access the local community
develop independent travel skills where appropriate
make well-reasoned personal choices and decisions
apply for and obtain appropriate benefits
access leisure activities and lifelong learning
engage with a fun, social programme of events, which includes a variety of activities from swimming and trampolining to lunches and dinners out.
Every aspect of our supported living care in London and Essex is tailored to the individual, focusing on developing and retaining the skills that each tenant needs to enjoy a fulfilling life in their own home.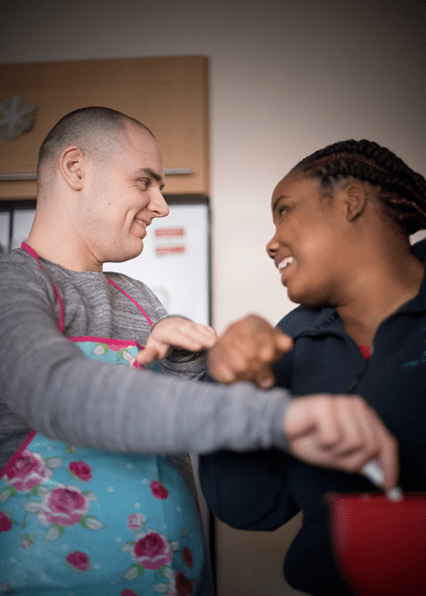 The difference our care makes
We've seen the transformative effect our services have on our tenants. Over time, they learn:
how to communicate more effectively
how to express themselves in a more constructive manner
how to be confident in their daily lives whether they're at home or out in the world.
Meet our supported living team
Our dedicated team of supported living carers, who provide care in our Romford, Barking and Chigwell residences, are all highly trained in learning disabilities and have a wealth of experience in providing tailored support.
Meet our fantastic supported living team below:
Our care transition plan: from childhood to adulthood
We provide care in London and Essex that runs from childhood through to adulthood; this includes taking adult referrals. To ensure our service users continue to thrive, we have developed a transition plan to support the children we care for ease into life as an adult when they turn 18, whether they choose to live in one of our supported living units or at our adult residential care home in Barking.
The best part about our transition process is that some of our staff members work in both children and adult services, making the new environment that much more familiar to our service users.
Our transition plan is a living document, which evolves as the individual and their circumstances change. The document contains all personal details of the young person, clearly explains the transition process and involves the participation of everyone in the young person's life.
The document includes:
challenging behaviour with staff and other services users
independent living skills
communication skills
personal strengths
what the young person likes and dislikes
triggers
behaviour management strategies
sensory issues and ways to deal with them
the community approach
future goals for the young person.
The transition process is tailored to suit the needs of the child as they enter adulthood. In general, the transition process will take place over the course of a year to ensure the young person understands what is happening.
Visits to the young person's new home will be arranged so they can familiarise themselves with the new environment and start building relationships with the carers and current tenants. Initially, this will happen on a monthly basis, eventually increasing to the point where the young person spends an equal amount of time in both homes.
This journey concludes with the young person decorating their own bedroom, sleeping in this bedroom and spending increasing amounts of time in their new home. Finally, they are encouraged to say goodbye to their old home.
During this transition process a social story book is compiled to help the young person's key worker reduce the understandable anxieties attached to moving home.
Our transition assessment and plan may be combined with that of the Local Authority's assessment. It may even become a part of a young person's education, health and care plan. Together this ensures the young person understands what care and support they are eligible for on turning 18.

We are very pleased with our son's progress. Your team have been wonderful, professional and have always been compassionate in your care of our son. He is thriving and progressing well under your care and it is very evident in his behaviour and demeanour……he is very very happy. And so are we. Keep up the good job and well done to you and your team.
A. Odeku