Our Children's Home in Ilford
Residential care for children with learning disabilities
You want to give your child the very best start in life, with care, love and support to develop skills they can carry through into adulthood. But for some children with learning disabilities or Autism these needs can't be met in their family home.
Thankfully, at our children's home in Ilford, we offer children aged 12–18 with learning disabilities or Autism a home away from home, a place to live, learn and thrive with all the care and support they need from our highly trained carers and support workers.
At any one time, a maximum of 6 children live at our children's home, Cameron House in Seven Kings, Ilford. Our resident children come to us via Local Authority channels and all of them are given the opportunity to learn vital life skills, including self-esteem, independence and how to socially interact.
Cameron House is Ofsted-regulated; view our latest inspection report for an official review of our services.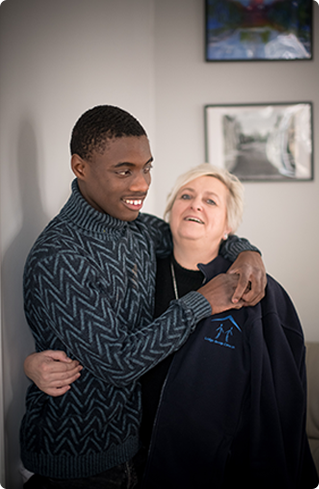 Dealing with the challenges of puberty
Our highly trained staff understand that puberty can be an especially stressful and confusing time for children with learning disabilities. They therefore put great emphasis on promoting a healthy lifestyle for young people at this challenging age.
They do this by focusing on:
attachment behaviour and emotional health
physical health
growth
diet and nutrition
dental health
lifestyle, including physical activity issues relating to sexuality.
They also provide a structured daily routine based on a family model. In this environment, we've seen the children flourish and it's something that brings our dedicated staff great satisfaction, as you'll see in the video below:
Complete care for your child
Every young person in our care at Cameron House receives the dedicated support of our team of carers and support workers but also has easy access to allied healthcare professionals thanks to our established and effective links with other agencies and the wider community. This ensures that all of their needs are met.
All children have an Achievements/Targets Programme to help them develop independent living skills. This programme is designed and overseen by Cameron House's in-house Occupational Therapist.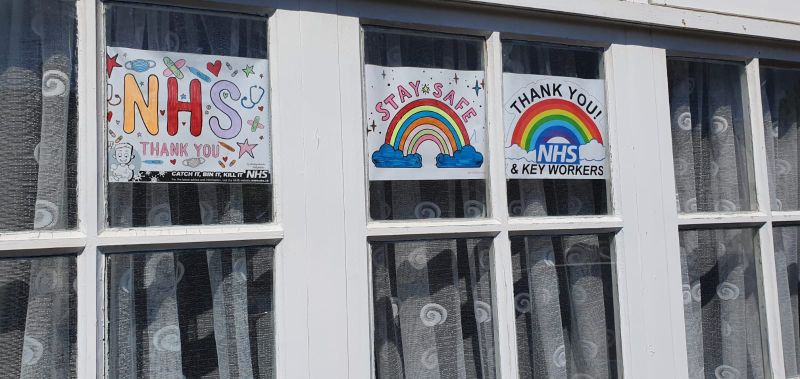 Taking into account the physical, social, emotional, sensory and cognitive abilities and needs of each child, our Occupational Therapist sets monthly targets for them to develop independent life skills and self-help skills. She works to develop skills for handwriting and fine motor skills and targets the individual's sensory processing challenges. 
When targets are reached, however small, they are always recognised and celebrated at Cameron House, for example through 'Well Done Certificates'.Once children reach aged 18, they have the option to transition to our adult residential care home or our supported living service. To make sure this change is a positive one, we implement a tailored Transition Plan.
Placement types at Cameron House
There are many different reasons for children to come to Cameron House. Placements include:
short- or long-term respite care for families
full-time care for children unable to live with their families
emergency placement if suitability criteria are met after the initial assessment
What is our children's home in Ilford like?
Cameron House is a welcoming 6-bedroom house with a lounge, dining area, laundry facilities and kitchen. Each bedroom is light and airy, with special attention paid to the decoration to give them a cosy, family feel. A patio at the back of the house opens out onto a lovely garden
Cameron House is close to numerous leisure centres and educational facilities, all within easy access by public transport, so your child will never be short of activities to engage with.
Our activities
Our young people at Cameron House have regular residents gatherings where they share fun, stimulating activities both indoors and away from home. These include:
art and messy play with foam and paint
water games in the garden/paddling pool
group painting
baking and cooking projects with the young people
dance sessions
exercise sessions
arts and crafts activities
themed parties, for example for Halloween and Christmas
trampolining
bowling
cinema
a multitude of trips, including to:

farms, such as Hadleigh Farm & Rare Breeds Centre, Valley Farm and Mac Donald's Family Maze
Southend beach
parks, such as Hainault Forest Country Park, Seven Kings Park, Valentine's Park and Raphael Park
London Bridge and central London
Winter Wonderland.
Our staff ensure that our young people's disabilities are not a barrier to them taking part in leisure and cultural activities in the community. Every activity is carefully planned to support their needs and assessed for safety.
Activities provide great opportunities for our young people to exert their independence and practice their social and communication skills in varied environments. These activities are recorded in an Activities Folder, Residents meeting or Key sessions using photographs, a description of the purpose of the activity and comments on our young people's responses and achievements.
Young people are also supported to learn new life skills and develop their communication through key work sessions, which are also recorded in a pictorial format. Play therapy, speech and language therapy and music therapy all enhance their experiences and achievements at Cameron House and beyond.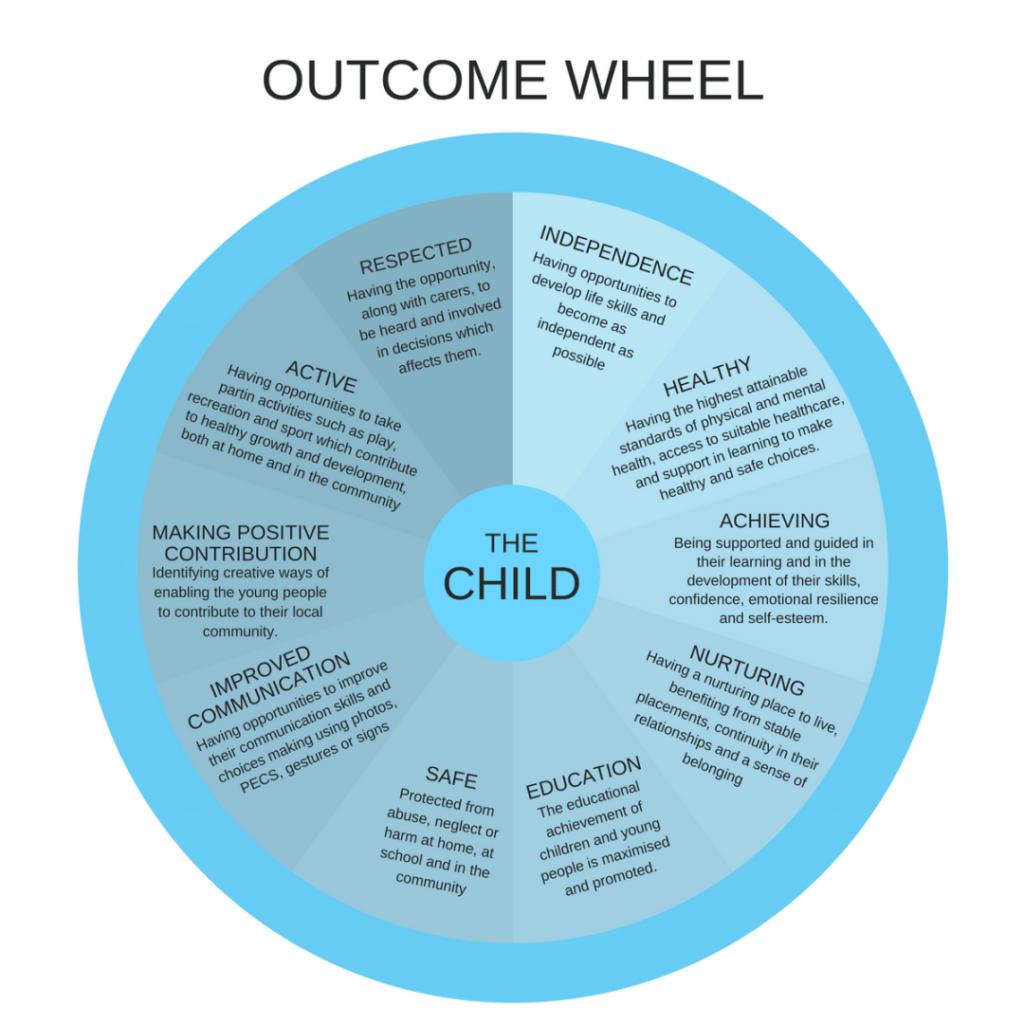 How do we ensure positive outcomes in children's care?
To ensure safe, structured and stimulating residential care for children with learning disabilities we implement several complementary approaches, which together result in positive outcomes for all of the children who stay at Cameron House. This includes:
a child-centred therapeutic approach to care
a key worker system
a focus on the development of life skills
sensory integration
gardening projects
a high ratio staff to child.
Utilising these approaches, the children in our care are supported to develop a positive self view and emotional resilience and the ability to maintain positive attachments. Our outcome wheel delves deeper into the goals we strive to help our children attain.
Meet our Ilford children's home team
Our highly trained staff at Cameron House in Seven Kings are all experienced in caring for and supporting children with learning disabilities including autism, ADHD and Asperger's Syndrome. Driven by the satisfaction of seeing our young people flourish, our children's home team helps create a second family for all of our residents.
Meet our dedicated team below:
What is our admissions process for Cameron House?
Admissions are on a planned basis. In exceptional circumstances, care may be provided for a child or young person who has been assessed as in need of accommodation, at immediate risk and without any other appropriate placement available. In such circumstances, age criteria must still be met, namely the child must be aged 12–18 years.
The process for admissions to Cameron House is as follows:
A Social Worker or Placement Officer phones to enquire about vacancies.
A discussion follows regarding the appropriateness of referral, namely whether the needs of the referral are compatible with the current resident group.
If the referral is appropriate, a Social Worker or Placement Officer agrees to complete a referral form and supporting information (history, recent reports).
On receipt of the referral form and relevant paperwork, further discussion will take place with the placing authority if new information regarding the placement is identified.
A preliminary visit will be organised; a Children's Guide will be sent out to all potential admissions.
An initial visit will take place and further discussions will take place between Cameron House, the placing authority and with the young person being referred.
A Placement Match will be completed and the outcome of the assessment will be communicated to the Local Authority. The Placement Match considers ability, communication, level of disability, the needs of the new admission, the impact of admission on the current children, and the impact moving to the home may have on the new young person depending on their needs. A Placement Match will also be completed for those young people who the home assessed but was not able to offer a placement.
Further discussion will take place with the Local Authority to confirm funding for the placement and to determine further introductions and timescales. This may involve overnight stays or an emergency move depending on the needs of the young person and the stability of the current group.
A bedroom will be prepared with décor that reflects the interests of the new young person, if known.
A Placement Planning Meeting will be held within 72 hours of the placement. Commitment to visit will be agreed with the Social Worker and reviews of placement will then follow no less than every 6 months.
Young people will be encouraged to attend their Review Meetings whenever possible. Key workers will submit a report for any meeting that is held regarding one of the young people in our care.

My son is happy at Cameron House and I am very happy with this placement. Keep up the good work, the management and staff are amazing with my son. Your home is a blessing for my son and my family – Parent